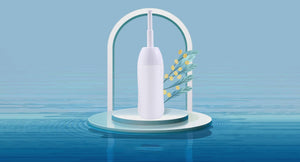 The Perfect Travel Pal for an Instant Hygienic Lifestyle
The portable bidets have uses beyond the unpleasant public bathrooms. For people who are often camping and hiking, the travel bidets are paramount and come in handy during outdoor activities.

These bidets are also referred to as travel butt showers or mobile toilet showers that you could carry while on the go. Cutting edge and innovation are understatements when it comes to describing its design, and it's a game-changer!

Portable bidets reduce your reliance on toilet paper rolls; however, there is more than just that. They have a lot more pros that make them the best alternative option. The travel bidets are used on the go; even while using a public toilet, there will be no need to reach out for a paper roll. Their portability makes them easy to pack and carry and leave your butt clean and fresh, even though you are using less than the ideal public bathrooms.

According to an article on eco-friendly toilet paper, the rolls are lousy for the environment. The National Geographic approximated that 27,000 trees are flushed in the toilet every day, a statistic from 2010, which means that the situation is worse now.

It's for this reason that the travel bidets are designed to change everything. They get rid of the need to use toilet paper and use water instead to do the dirty job. Portable bidets perform the same task as the traditional ones, but, in this case, they use small bottles as the source of water and not the water pipes while on the go.
Compared with home bidets, Portable bidets are designed with two parts: a nozzle and a small bottle attachment that holds and sprays water on your rear to clean up. In the market, there are multiple models available, and they work the same. For a hygiene-conscious traveler, you should know the kind of portable bidet to purchase.

As for the non-electric portable butt, the shower operates through mechanical action, that is, by squeezing the small bottle. Therefore, you need to fill the bottle up with warm or cool water depending on your preference, hold it using one hand, turn the small bottle upside down and place one finger on the built-in airlock.

In most cases, the lock is placed on the bottom to avoid any leakages. You can then direct the nozzle where you want, remove your finger from your airlock, squeeze the small bottle, and begin cleaning.

On the other hand, the battery-powered bidet models are as portable as the mentioned squeeze-bottle hand travel bidets but suitable for people who have a problem exerting the required hand pressure, such as seniors or the bidets with current operations. For such, you get to click a button instead of squeezing the small bottle.

With further ado, you can invest in high-quality travel bidets that are ideal for office use, a friend's home, or traveling.
When people first hear of a portable bidet, they take it as a joke, but that's not the case. It's an ingenious invention. So, the answer to that question is a "yes." You will realize that some work even better than others, depending on their features.

However, the portable bidets will need you to do a little practice and know-how to angle them to satisfy your needs.

A specific level of knowledge and skill is mandatory, though some people will feel it's not worth the effort. Note that the bottles are small thus do not hold a lot of water; some will find it sufficient while others will feel it's inadequate to do the cleaning job fully. 

Therefore, if you find a travel bidet is not fulfilling your bidet desires, you shouldn't despair or give up. Do more research, and you will come across a fully designed model with you in mind.
When you come across a portable bidet, you should plan on how to use it before even attempting. It would be best if you first tried to turn the nozzle and see where the water comes from and the power of its water pressure. All travel bidets use the same mechanics and using a similar method. It's a similar process as the bidet sprayer.
• You start by filling the bottle with either warm or cold water, your preferred temperature. However, the comfort is warm water.
• Secure the bidets nozzle
• Suppose there is an airlock like some handheld travel bidets; you have to place the finger on its hole to ensure the bidet doesn't leak while you are using the toilet.
• After you are done using the toilet, you can turn it upside down and angle it accordingly and direct the nozzle in the right position and begin to spray till you are entirely clean.
After the cleaning, you can now use a few sheets of eco-friendly toilet paper roll to wipe the wetness off your behind. Or, rather, suppose you feel more eco-friendly, use a reusable toilet roll to dry the wetness.
With a bottle cap or handheld bidet, you only need to squeeze your bottle to have a good pressurized spray, and for the electric bidets, you have to press on a button.
Travel bidets are designed differently; however, the maintenance is done equally in all kinds of bidets. Generally, it's advisable to avoid using any harsh chemicals such as abrasive powders and bleach. Excessive chlorine-based products could lead to gaskets and rubber.

O-rings failing and weakening, thus leading to internal leakage. Also, keep in mind that scrubbing hard might scratch your bidet. More so, it would be best if you didn't submerge or fully wash the bidet, particularly the electric ones. It could ruin your electronics or lead to a shock hazard.
Use a Brush
If not a brush, you could use any of your old toothbrushes to scrub the inside of the bidet. It helps remove any dirt from the bidet's head. Use a mixture of water and baking soda, then rinse it off.
Soak the Bidet
Use a plastic basin, rubber band, some vinegar, and water. Pour a vinegar-water mixture in the basin and soak the portable bidet and tie the plastic to your bidet using the rubber band. Then, allow it to soak for about 10 minutes. Once it's soaked, you can spray out the vinegar mixture into the toilet for around ten seconds and finally remove the brush and scrub any remaining bits.
Use Chemical-Free Cleaners
Remember that the products you prefer to use while cleaning will depend on the material used to design the bidet. Some use plastics or metals; however, it's advisable to clean using chemical-free cleaners like lemon, baking soda, or vinegar.
Sanitize its Body
Most people around you get hold of the handheld bidet; therefore, you should not expose them to the bidet before you sanitize it. So, sanitize the entire main body by wiping it using alcohol for safety measures.

As long as you can access water, you can bring your travel bidet wherever you go. This guide is great enough, and you now know how to use one while you are on business trips, vacations, camping sites, or night-outs for movies; generally, any outdoor activities you are on.

For people who camp far from the flush toilets, then the portable bidet will have you eliminating the toilet papers that would fill up your bag. Here, you will have an easy time since you don't have to struggle or feel guilty burying used paper rolls in nature.

Most people are die-hard fans of using toilet paper and might be hesitant to use water instead, but this article should be a great convincing power for you to consider a travel bidet. According to practitioners, they are clean and more hygienic than toilet paper. More so, eco-friendly and affordable.
★★★★★

To address the often mentioned "leakage" problem: READ THE INSTRUCTIONS! It's not meant to hold and store water lol. You fill it before you go, you go, then you use up all the water. Do NOT fill it and throw it in a bag to "be prepared" lol. Anyways, the thing is AWESOME! Works as advertised just RTFM and be careful of your water temp. COOL TO LUKEWARM... Learn from my idiocy ;')

 Dime
★★★★★

I bought this portable bidet for my office. I work on campus and have to use the school restrooms. I try to take care of my personal hygiene and this was just the product I needed. It looks like a water bottle on my desk lol, just an added bonus as it doesn't give anybody a reason to talk about this with me. 

 Hasan Malik
★★★★★

I use this handheld portable bidet daily the biggest thing that you have to remember to to fill the bottle before. If your tub it right next to the toilet no problem. But, other wise the product works well and has enough pressure to clean without have to squeeze the bottle hard. 

 wolfsvein