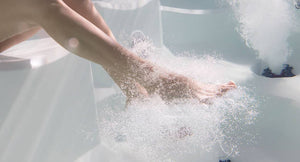 Stay Warm & Comfortable While You Are Washing
Warm Water Bidets
There are different kinds of warm water bidets, and each has its own set of benefits and drawbacks. Regardless of how you decide to wash, one thing you can be assured of is that a warm water bidet wash is comfortable. Warm water soothes the region, making the washing procedure more enjoyable and efficient. On the other hand, cold water bidets might make it difficult for the water stream to perform effectively. They function as your home tank-less or tank-type heaters. And each mode guarantees warm water to the users.
Bidet toilet seats with hot water storage reservoirs are quite uncommon. Usually, when the washer is turned on, the heater rapidly warms the water. The steam will remain warm for the duration of the wash and won't cool off. The temperature is usually 104°F/40°C. The majority of bidets give hot water for just a few minutes, whereas deluxe seats supply unlimited hot water. Although the double versions are available, the non-electric warm water bidet attachment generally does not require heated water (60°F/25.5°C). Not all bidets come with heated water or thermal controls. To create warm water, hot and cold-water lines have to be connected to the non-electronic bidets. Again. Thus, some hardware and plumbing modifications will be required to spray warm water. Warm water bidets can spray warm streams with no extra piping or gear but examine the specifications thoroughly before purchasing.
Generally, both warm and cold jets from bidets can clean you effectively. The cleansing is done by aggressively removing the dirt off your body with a jet. Thus, temperatures have a tiny part to play. Warm water may give the impression of being cleaner. However, this does not always imply that it causes clean and fresh skin. Whether it's cold or warm attachable bidet seats, they both will provide the same effect. It's the water pressure that matters.

If the bidet has varying washing intensities, you'll probably receive the cleanse you want irrespective of how warm or chilly the spray is. While deciding which sort of bidet is best for you, this is an essential factor to ponder. However, other features are found on electric attachable bidet toilet seats, including heated seats, air fresheners, detergent dispensers, and nozzles that can be set accordingly.
A bidet toilet attachment running on no electricity purpose primarily keeps you as fresh and clean as possible after using the bathroom, without fancy features like dryers. Many non-electric versions can't generate warm water on their own.

Thus, they only dispense cold water. The heated water streamline can be connected to some bidet types via adapters and kits, although further plumbing adjustments may be needed.

So, if the non-electric bidet is fixed on a water heater line, it will probably have warm water. However, it's a no-brainer. With the void of the water heater supply line, a non-electric bidet is a traditional equipment with cold water.
Warm water is an issue with certain bidets. Therefore, they have an onboard tank that keeps warm water on hand. While using the bidet, it takes this water stream and distributes it to assist you in cleaning up. 

The sole thing left to determine is if or not the hot water used in the bidet came from your home's piping or was generated by the attachment's immersion heater. It doesn't matter whatever route you choose. All you have to do is turn on the machine.

Many onboard tank structures enable you to regulate the stored stream temperatures. The equipment may deliver additional warm streams or mix hot streams with chilly water to get the desired temp.

Most of these hot water storage tanks dispense warm water for approximately a minute and cool down afterwards. This is comparable to a water heater tank in your house: if used in the shower for half an hour, it'll require time to recharge.

Whenever the onboard tank bidet runs out of fresh water, you may have to put it on hold for a few minutes so as it replenishes.

This may soon become an issue if you have a busy family. Instead, seek a type that connects to your apartment's hot-water supply route (for always-warm water, regardless of demand). If not, try an adequate supply tank or a fast-warming system.
★★★★★

I always wanted to try a bidet and I finally took the plunge, so to speak. I initially ordered a really fancy one in the $400 range, but had to return it because the electric plug wouldn't reach my outlet. This bidet has a nice low price and still gave me what I really wanted; warm water, different spray types and positions and the ability regulate the flow. This gives you a clean not matched by toilet paper. If you are thinking of buying it, then buy it.

Lisa B.
★★★★★

I really appreciate the simplicity on this. It basically works like a shower head. If you really want hot water, you may want to run your sink hot water for a minute depending on how long it takes your sink faucet to warm up. I prefer that this is a standard bidet attachment, unlike my electrical making it cheaper AND I can use my original lid. The electric bidet has its own lid and you can't use it as a seat.

leland robinson
★★★★★

The cold water is really fine, it feels cold and is surprising the very first time but after than, I've found it refreshing and it really cleans well. Warm water would be a nice addition and this seems easy to do, but warm water reall isn't necessary. I really recommend this product and haven't needed to use any TP since the first try.

Turk